$66.45 each

Our premium wood nameplate. This nameplate connotes permanence and elegance. With gold trim and a polished and piano-hard Rosewood finish, this nameplate is the choice of banks and law firms. The brass base is encased with felt, for a no-scratch surface.


Size: 2¾" x 10½ "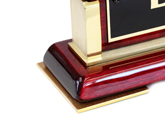 Note the name plate is replete with elegant and classy touches.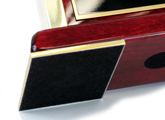 Name plate has a polished finish and felt on the base that offers a no-scratch feature for your desk.