$66.45 each

Your name sits on a polished Rosewood and brass base. Tasteful gold touches add dignity. These nameplates belong in any office. Customers include brokers, lawyers and high end offices. The feet are covered in no-scratch felt.


Size: 2½ " x 9½"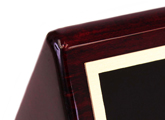 Piano-hard wood finish makes this nameplate both impressive, and easy to clean.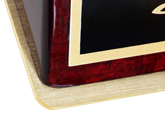 Brass nameplate is the perfect complement to this wood base.