Custom Street Signs (select your material)
(145479)
Industry's best-selling Street Signs that can be customized in seconds! Choose from multiple styles, colors and reflectivity grades. Classic designs meet modern elements!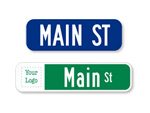 Our best-selling, reflective street signs.
Double-sided with 3M's 10 year warranty.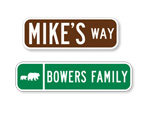 Great for gifts, but not reflective.
Single-sided, with 3M's durable inks and films.
Street Sign Posts and Sign Brackets
(145480)
Professional sign buyers choose these same posts and brackets. Order the best option for your signs below, all at the best prices online.
More Street Signs
(145483)
Discover even more custom street and address sign design templates. Drill down to explore even more color, shape and material options.