NFPA Diamond Signs by Type
(142135)
Choose your sign - either build your own NFPA sign from a kit of hazard ratings or buy placard with changeable ratings or go for a custom sign where you decide on ratings online.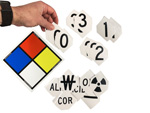 Kit includes a base sign, 15 digits, and 6 symbols.
Just attach symbols and digits to create your placard.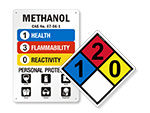 Select your ratings, and choose a material and size.
In adhesive vinyl and standard & reflective aluminum.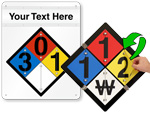 Save money by combining multiple NFPA signs into a single sign.
Made with sturdy aluminum.