Every year in the US, an estimated 240 million calls are made to 911.
The average amount of time it takes emergency responders to get to a call is 8 minutes. That number increases to 14 minutes in rural areas. And where emergency responders can't identify your home address efficiently, that number can climb even higher.
All it takes to ensure that responders can get to you in an emergency situation is the right address sign. Increasingly, fire, police, and other emergency departments are recommending that homeowners install reflective 911 address signs for exactly that reason.
But what are reflective 911 signs and what should you look for when purchasing one? Read on to find out.
What Are Reflective 911 Address Signs?
In an emergency situation, every second can mean the difference between life and death. That's why the precious seconds it takes emergency responders to find your house number can drastically impact the outcome of an emergency call. But putting your address sign where you think they can see it isn't always enough.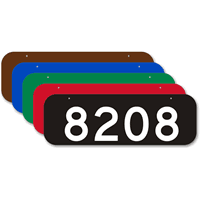 Many enhanced 911 systems are capable of determining the exact address that a person is calling from. However, knowing the address doesn't mean you can easily find it. That's especially true at night, in rural areas, in new subdivisions, and in a host of other situations. In fact, most homeowners don't have address signs that are clearly visible from the street.
Reflective 911 address signs are durable address signs made of reflective material that make them easy to spot from the road. These reflective signs are easily installed on the façade of a home or on a mailbox and are intended to help police, fire, and emergency responders find your home in the case of an emergency. In many communities, public safety agencies have started enforcing ordinances that require these reflective signs for certain home types and sizes.
Who Needs a Reflective Sign?
In some communities, reflective 911 address signs are mandated by bylaws and other community ordinances. In those communities, you may be required to have a reflective address sign.
Whether required or not, everybody can benefit from the peace of mind that a reflective sign offers.
Think about whether or not your house would be easily found by someone who doesn't already know where you live. Drive or walk up and down your street and put yourself in the position of someone who doesn't know your house or neighborhood intimately. Ask yourself:
Can your house be seen from the street by passing cars?
Would someone who doesn't know it be able to find it quickly in an emergency?
How are night conditions in terms of finding your home?
Can it be spotted from a distance?
Areflective 911 address sign doesn't just help emergency responders save potentially critical seconds finding your home, it can also help friends, acquaintances, and your mailman find your home more efficiently.
Important Components of 911 Emergency Signs
There are three important components to consider when purchasing a reflective 911 address sign for your home: color, printing, and construction. We'll explain each in more detail below.
Color
One of the most important considerations when buying a 911 address sign is color. This is because of a phenomenon known as halation.
Halation is also known as overglow. It's the result of light from vehicle headlights coming into contact with the reflective material on these signs. At night, signs with green, red, and brown backgrounds glow in a way that makes them indiscernible. Although the signs can usually be spotted from a distance, house numbers are typically viewed from closer proximity in an emergency situation.
To overcome any potential problems caused by halation, a 911 address sign with a black background and white numbers is best for use on a home.
With that said, some communities have regulated the colors used in address signs in accordance with housing types and construction standards. For example, red signs may be used to indicate homes that are built using lightweight construction methods. Lightweight construction methods burn and collapse faster than traditional wood-frame buildings. Knowing this prior to entering the structure is important in emergency situations that involve fire or the potential for collapse.
Printing
Avoid 911 reflective signs that are made using stick-on letters or inkjet printing. Stick-on letters tend to peel and wrinkle whereas inkjet printing won't last longer than 4 years if it's used outdoors (where it should be).
Instead, look for reflective street signs that use 3M matched component printing and films. These are graded for government-ordered street signs and are sure to last years installed when outside of your house.
Construction
Keep in mind that, depending on where you live, a reflective emergency sign has to withstand all kinds of weather. Look for a sign with an appropriate metal thickness and the right materials.
Heavy-duty aluminum in an 80 mm thickness is resilient and capable of withstanding rain and snow without rusting. You might also consider looking for a sign with graffiti protective laminate and a UV protection to prevent sun damage.
Where to Install Emergency Signs
You should install 911 address signs where they're most visible. You can install it on your home or on your mailbox according to the following guidelines.
If you're installing your emergency sign on your home, you should place it where it's visible from both directions of travel. Ensure that it isn't blocked by trees, bushes, or any other debris. Install the sign at eye level and within the radius of the porch light to ensure visibility. Most emergency responders recommend the front door for your address sign as opposed to above the garage, where there's usually low light and visibility.

If you decide to install a reflective address sign on your mailbox, this should not be your only means of identifying your home. In addition, you should only consider installing a reflective sign on your mailbox if it's in front of your house and in a visible area. The mailbox should be equipped with reflective signs on both sides, so it's seen from both directions of travel.
Peace of Mind with a Reflective Sign from SmartSign
Reflective 911 signs can save precious seconds when an emergency responder is trying to get to you in a life or death situation. Although it's long been recognized as a problem, communities are only now starting to mandate the installation of reflective signs to help responders identify homes when every second counts. For greater peace of mind regarding the safety of you and your family, order your customized 911 address sign today.