Friday, April 13, 2012 —
OSHA Cites Sheet Metal Company with 16 Health and Safety Violations A Georgia sheet metal fabricator has been penalized with fines totalling $81,180 for failing to comply with 42 health and safety guidelines. The company, Don Park USA, was cited for similarly disregarding OSHA codes in a 2010 inspection following a fatality at the plant.  Among other citations, Don Park was written up for failure to train employees on the dangers of fatal workplace chemicals. Under the Occupational Safety and Health Act of 1970, employers have a responsibility to provide a safe and heallthful workplace for employees. Education on workplace hazards and prompt correction of code violations are crucial to the maintenance of a good work environment.
Posting hazardous chemical warning signs can keep workers safer.
Mississippi Town initiates a Bike-Share Lane If you're driving along Clayton Avenue in Tupelo, Mississippi, you might have a sneaking suspicion that you're driving in a bike lane.  The $3,200 "bike-share" initiative is part of an effort on the part of Tupelo Public Works to desegregate several modes of transportation.  Bicycle legends are emblazoned on the road, along with a slew of street signs indicating pedal traffic. Although cyclists were already allowed to bike where they pleased, a shared lane increases drivers' awareness of their two-wheeled friends. Tupelo plans to use a $25,000 Healthy Hometown grant to continue making their roads more bike-friendly in the coming year.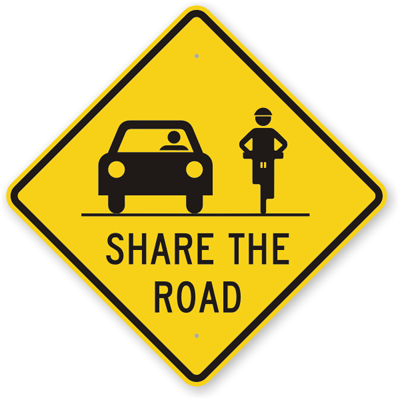 A friendly reminder to share the road is a good start if you're thinking of promoting bike-share lanes in your hometown.
English City Dims Street Signs and Lights to Conserve Energy  Bradford, England is undergoing a change to green, with councilmen replacing the lighting in traffic signs and signals with LED lights. In addition to conserving the energy consumed by traffic signs, the city is also dimming street lights between the hours of 11pm and 5am. Though this small adjustment will ultimately conserve 25% more electricity, it isn't flipping the switch on traffic safety as well. Bradford officials have taken extra precautions to keep lights on and bright for late-night drivers on high-traffic roads, even between 11pm and 5am.  Staying green and cautious is what we're all about here at SmartSign, so kudos to these arbiters of safety across the pond.
Killinghall Road in Bradford is one of the streets where lights have been dimmed late at night.
Billboards: The New Classifieds? In this difficult economy, finding a job can often feel like a fruitless venture. Bennett Olson of Rosemount, Minnesota, has come up with an offbeat ploy to gain attention from potential employers. Olson posted a billboard with his photo, contact information, and the words "Hire Me" on Interstate 35W for 24 hours. After leaving his previous job at a bowling alley, the innovative young man identified downtown Rosemount as the best spot to capture the attention of businessmen on their daily commute. Although Olson hasn't received any offers yet, he's seen increased traffic to his personal website and maintains hope that his entrepreneurial ploy won't be for naught.
Bennett Olson's billboard in Rosemount, Minnesota.
Garden Grove Residents Protest Flashing Billboards Unlike Bennett Olson's endearing endeavor, residents of Garden Grove, California, are protesting the installation of a large flashing billboard advertising a Hyundai dealership. The Hyundai dealership hopes the flashy sign will increase revenue from 30% to 50%, but Garden Grove residents are left asking (ironically, in banner form), "No more billboards. Is this Garden Grove or Las Vegas?" The business already contributes greatly to city improvement with a whopping one million dollars paid in sales tax to Garden Grove each year, but is it at too great an aesthetic cost? Share your thoughts with us in the comments section below.
A banner protesting a flashing Hyundai billboard near a residential neighborhood.
– R. Sapon-White